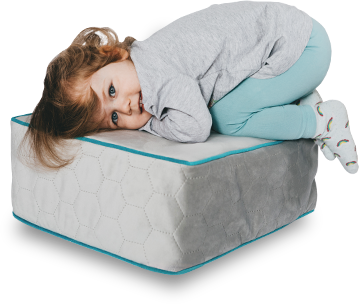 Your baby has troubles falling asleep? You're exhausted of constant crying and endless whining?
Try Kangu!
Kangu is a springy seat which helps you with putting your baby asleep easily and effortlessly.
5 reasons to try Kangu

SAFETY
Lulling on Kangu is completely safe for you and your baby. Kangu is a stabile and yet springy seat. Thanks to the anti-slip fabric on the underside, it allows you to put it on any surface without worrying of shifting or slipping.
---

COMFORT
Place does not play a huge role. You can choose where to put your Kangu. Whether it is a sofa, a chair or a bed, Kangu will still remain the same springy as it could be on any other surface.
---

EFFECTIVENESS
Infants love jumping because it resembles the circumstances which occurred in the womb. What is more is that the babies calm down much easier when they feel that they are being cuddled in the parents' arms.
---
MOBILITY
Kangu is a small-sized seat which allows you to take it with you anywhere you want.
---

HOT COFFEE
Many of the concerned and hurried mothers probably forgot about the taste of the hot coffee. Thanks to Kangu, you will get the opportunity to tranquil your baby and put your infant to sleep. Then, without any hurry or guilt, you will start to enjoy the very little moment of having the time with the hot coffee in your hands
---